AMP today reported a net loss of A$344 million and an underlying profit of A$486 million. These results were driven by challenges in our insurance business and the actions that were taken to stabilise this business.

Despite these results, AMP's underlying business and balance sheet remains strong and well capitalised. We now hold more than $2.3 billion in capital above minimum regulatory requirements. The strength of AMP's capital position, following the completion of a reinsurance deal in our insurance business, has facilitated today's announcement of an on-market share buy-back of up to A$500 million, to be conducted during 2017.
Join the live webcast on our financial results briefing at 12.30pm (Sydney time) on Thursday 9 February 2017.
A replay of the presentation will be available shortly after the briefing.
2016 business performance
2016 was a challenging year for AMP, with strong performances in AMP Bank, AMP Capital and our New Zealand business, together with a stable performance from our superannuation and financial advice business. The results from these businesses were offset by weakness in our insurance business, and the actions we took to stabilise this business, which drove a net loss and a fall in our underlying profit.
Our Australian superannuation and financial advice business withstood volatile share markets, poor investor sentiment and adviser regulatory changes to deliver largely steady results, with operating earnings down 2% to A$401 million.
AMP Bank maintained a strong and competitive lending position; increasing its loan book by 13% and almost doubling its profit over the past five years. In AMP Capital, a diversified investment management approach and strong international partnerships in Asia saw sustained growth. Our New Zealand business continued to deliver; growing its revenue base, closely managing costs and evolving its distribution channels to increase the reach of direct business.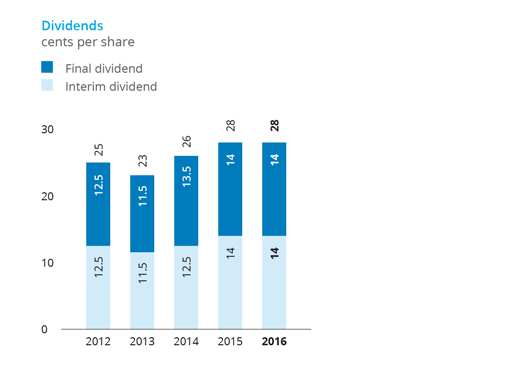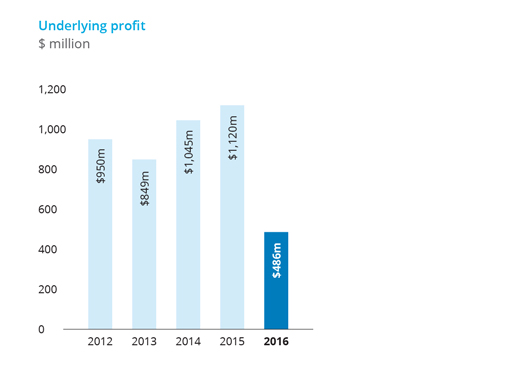 Capital management
Despite the challenging year, your board has taken into account the largely non-cash nature of the one-off losses in insurance, which were required by accounting standards. As such, your board has determined to pay a final 90% franked dividend of 14 cents per ordinary share, bringing the full year dividend to 28 cents per share. The final dividend will be paid on 31 March 2017. This represents a full year 2016 dividend payout ratio of 85% of underlying profit.
In recognition of AMP's strong capital position, AMP will conduct an on-market share buy-back of up to A$500 million, which is expected to be completed in 2017.
Shaping the future of AMP
Your company remains committed to its growth strategy, and in 2016 made a number of organisational changes to create clearer accountability for short-term performance, with a continued focus on costs, capital and cashflows. We have a clear strategy to build on our market leading positions and to optimise opportunities.
We are focusing on large and growing markets and on businesses where we have a distinct competitive advantage. We are transforming our core Australian business to be more customer centric. We will also continue to invest selectively in Asia and internationally to capture new growth opportunities. While growth is important, we will continue to manage risks to our business very closely.
1 These numbers are unaudited.
2 Fund Market Overview Retail – Marketer, Strategic Insight (Plan for Life), September 2016.
3 2012 profits have been restated in accordance with changes in accounting standards. Unless otherwise specified, all amounts are in Australian dollars.
What is a share buy-back?
A share buy-back, or share repurchase program, is a capital management program where a company returns surplus cash to its investors by buying back its shares on market. This will result in fewer shares of the company on issue. All else equal, this can help lift the value of shares still in the market. A buy-back demonstrates board and management confidence in a company's strong capital position.

AMP is returning capital via an on-market share buy-back which means the shares will be bought on the open market, not from shareholders directly. Over time, the intention is that AMP shareholders will benefit from the rising value of their shares.